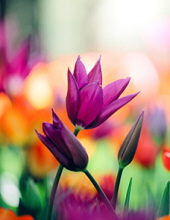 Obituary for Mary Elizabeth Vaughn
Mary Elizabeth Vaughn, age 90, of Red River Road in Irvine passed away Saturday, May 18, 2019, at the Compassionate Care Center following a long illness. She was born April 9, 1929 in Pryse, KY and was the daughter of the late Harry and Ruth Stamper Mitchell. She was a retired from the Irvine Health and Rehabilitation Center where she worked as a nurse's aide. She was a member of the Corinth Christian Church and had lived in Estill County most of her life. She was preceded in death by her husband, Robert F. Vaughn, Jr. She is survived by:
2 Grandchildren: Sandra Thorne - Texas
David Lee Richardson - Lexington
1 Great Grandchild: James Blake Thorne
Special Friends: Brenda and Danny Neal
She was preceded in death by 2 sons; Harry Grant Richardson and Farris Lee Richardson and 1 brother, Harry Mitchell.
Funeral services will be conducted Wednesday, May 22, 10 AM at the Warren F. Toler Funeral Home Chapel by Bro. Linville Dunaway. Friends may call between 6 and 9 PM Tuesday at the Warren F. Toler Funeral Home.