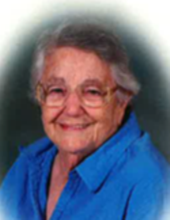 Obituary for Mary Elizabeth Martini
Mary Elizabeth Martini, age 97, of Wallace Circle in Irvine, passed away Saturday, January 2, 2021, at her home following a short illness. She was born January 7, 1923 in Addyston, Ohio and was the daughter of the late Thomas and Lula Moore Brown. She was a house cleaner and a member of the Clover Nook Christian Church. She was preceded in death by her husband, James Harry Martini and is survived by:
1 grandchild: Joe Taylor - Ohio
3 great grandchildren: Erica Roberts - Arkansas
Matthew Taylor - Arkansas
T.J. Taylor - Arkansas
6 great-great grandchildren
Her caregivers: Mary McIntosh and Jordyn McCormick
Several nieces and nephews and a special nephew, Justin McCormick
She was preceded in death by her son, Jerry Lee Taylor, her sister, Virginia Abney, 2 brothers, Thomas and Alfred Brown, 2 grandchildren, Jerry Wayne Taylor and Jimmy Taylor and 1 great grandchild, Dawn Taylor.
Burial will be at the Crown Hill Cemetery in Cincinnati, Ohio. There will be no services. The Warren F. Toler Funeral Home is in charge of arrangements.