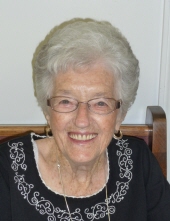 Obituary for Marcella Thomas Saylor
Saylor, Marcella (Thomas), age 99, of Crittenden, Kentucky, passed away Friday, July 15, 2022, from complications from a stroke. She was born to the late Vernon and Nannie (Dunaway) Thomas on March 3rd/4th, 1923 in a log cabin on the family farm in Estill County, Kentucky.


After retiring from the Hewitt Soap Factory in Dayton, Ohio, Marcella settled in northern Kentucky where she designed beautiful flower beds, focused her artistic talents on making award-winning quilts, enjoyed bluegrass gospel music, and spent time with family and friends laughing, traveling, and swapping stories. For the last 9 years, she had the joy of living with her granddaughter's family in Castle Rock, Colorado.


Marcella is preceded in death by her daughter Bonnie (Stewart) Schafer; siblings Dorothy Massie, Raymond Thomas, Harry Thomas, Eugene Thomas, Jennings Thomas, Elwanda Pearson, and Vernon Thomas, Jr. She is survived by grandchildren Kelli (and Rick) Eagle and Kevin (and Jenny) Langford; greatgrandchildren Cade Eagle, Ellie Eagle, and John Langford; sisters Joyce Chambers and Sue (and Richard) Johnson; son-in-law Lee (and Deanna) Schafer; step-daughter, Bobbie Jean Thompson and family, and numerous beloved nieces, nephews, and friends.


Funeral Service will be held at 2 PM, Sunday, July 24, at the Warren F Toler Funeral Home, 99 Cedar Grove Rd, Irvine, KY with interment following at the Turpin Cemetery, 915 Winston Rd, Winston, KY. Visitation will be held Sunday from 1 to 2 PM.


As the family will be traveling, in lieu of flowers, the family suggests that any desired memorials be made to Camp Wapiyapi www.campwapiyapi.org or Samaritan's Purse www.samaritanspurse.org.