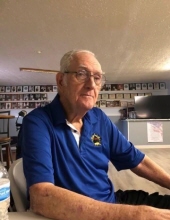 Obituary for Louis S. Officer
We are sad to announce that Louis Smith Officer, aged 81, of Ravenna Kentucky passed away on August 28th, 2022 in his home after a long illness. He was raised by Ollie and Dorcas Orr, and is preceded in death by nine brothers and sisters: Kate Harper, Timothy Officer, Pearl Rhoades, Estelle Kopp, Thomas Officer, Charles Officer, Harvey Officer, John Officer, and Betty Officer; father Harvey Officer, mother Mettie McCoy, and son Gary Michael Alexander (widow Pamela Sutcliffe). He is survived by his brother Edgar Orr (Billie); ex-wife Penny Officer; three children: Shannon Vice, Christina Officer, and Steven (Susie) Officer; nine grandchildren: Tawny (Johnny) McCauley-Vice, Chelsea (Floyd) Bailey, Christine (Caleb) Caudill, Carol Alexander, Elisha Rose, Kyle Kelly, Danielle Officer, Dylan Officer, and Skylar Officer; and 9 great grandchildren: Zoey Caudill, Aubriegh Caudill, Ivy Caudill, Mia McCauley-Vice, Ava McCauley-Vice, Michael Bailey, Gary Alexander, Eliza Osborne, and Allison Osborne. Special recognition to Donna Officer.

Louis attended Ravenna Grade School, and was a graduate of Irvine High School. After graduating, he went on to serve in the United States Navy where he retired after twenty years of service. He then found employment at the Veterans Affairs Hospital in Lexington Kentucky where he later retired. He was actively involved in the American Legion where he served as Post 79 Commander (3 times), 7th District Adjunct and Vice Commander (2 times), and Sergeant At Arms. He was the Area B Vice Commander, Senior Vice Commander, the State Commander from 2005 to 2006, the Chef de Gare in Volare 1407 (3 times); Grand Chef De Gare for the State of Kentucky, City of Paduah Kentucky Duke of Paduah, Commonwealth of Kentucky Kentucky Colonel, and was a service officer. During his time with the American Legion, he was the recipient of the Distinguished Service Award.

He was an avid outdoorsman, but above all he enjoyed spending time with his kids and grandchildren. His love of life was contagious, and his sense of humor was unparalleled. The man was larger than life, and he will be sorely missed by all who knew and loved him.

Funeral services will be conducted Saturday, September 3, 11 AM at the Warren F. Toler Funeral Home with Bro. Marvin Neal officiating. Visitation will be held Friday from 6 to 9 PM. Burial will be at the Kentucky Veterans Cemetery North East on Tuesday, September 6, at 10:30 AM.

In lieu of flowers, the family requests that donations be made to Estill County Toys for Kids, or the American Legion Post 79 Flood Fund.