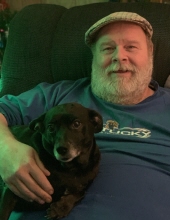 Obituary for Lonnie Denziel Muncie
Lonnie Denziel Muncie, age 65, of Hood Avenue in Irvine, passed away Monday, September 6, 2021, at his home following a short illness. He was born May 20, 1956 in Richmond and was the son of the late Ernest "Chock" Muncy and Amanda Francis Estes Muncy. He was a member of the VFW and the Peacemakers and had lived in Estill County all his life. He is survived by:
His wife: Betty Adams Muncie
3 stepdaughters: Crystal (Vondal Feltner) Muncy - Stanton
Amanda (Kenneth) Childers - Rogers
April (Kenneth) Hull - Tompkinsville
4 grandchildren: Ashley Muncy, James Puckett, Melissa Childers and Brittany Chaney
1 niece: Misty Muncy
1 great nephew: Chandler Raker
He was preceded in death by 2 brothers, Harold Ray Muncy and Larry Douglas Daniels and 1 grandchild, Kenneth Marshall Childers, Jr.
Funeral services will be conducted Friday, September 10, 11 AM at the Warren F. Toler Funeral Home Chapel with Skip Johnson officiating. Burial will be at the Crowe Cemetery. Visitation will be held Thursday from 6 to 9 PM at the Funeral Home.