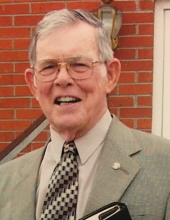 Obituary for Lloyd Clinton Roberts
Lloyd Clinton Roberts of Estill County took his last breath on December 31st, 2019 at 89 years young. He was surrounded by family in a room full of love.

He is preceded in death by his parents, Minor Clint Roberts and Fannie Mays Roberts; sisters Ida Mae Freeman, Hazel Tomes, Ruby Smyth, Lois Nugent, Cora Wilson; brothers Clayton Roberts and Donald Roberts. He is survived by his loving wife of 60 years Betty Hall Roberts; son Steven Lloyd (Teresa Hardin) Roberts of Lexington; three grandchildren Kaitlin Roberts, Taylor Roberts, and Corie Roberts; sister Dora Winkle of Irvine; brothers Paul Lee (Red) (Charlotte) Roberts of Irvine, and Wayne (Susi) Roberts of Lexington; and many loving nieces and nephews.

Lloyd was born in Leighton, Kentucky on April 10th, 1930. He graduated from Estill County High School in 1949. After high school, he joined the United States army air core and later the United States Air Force in 1949. He served 22 years' active duty in various locations all over the world. Including two tours in Korea and one in Vietnam. Following return from Vietnam, Lloyd retired from the Air Force, and served various positions in Estill county. Including working for Carhartt and managing the Kentucky Fried Chicken. Several years later Lloyd returned to work for the United States Government at the Avon Army Depot, where he retired after eight years of service.

Lloyd was a loving Husband, Father, Brother, Papa, Uncle and Friend. He was a man of strong faith and was a devoted member of his church, South Irvine Christian, where he was an elder. He was a member of the Irvine Kiwanis Club, and a Kentucky Colonel. Lloyd could talk to anyone and enjoyed long conversation and just being around people. He was a friend to anyone and everyone. Lloyd loved music and singing, many of us will always remember his constant humming and whistling as he went about his day, just like his father.

Visitation will be held at the Warren F. Toler Funeral Home on Sunday, January 5th, 2020. Family can arrive at 5pm, all other guests are welcome from 6:00-9:00 pm. Funeral service will be held on Monday, January 6th, 2020 at 11:00am. Burial will follow in the South Irvine Cemetery.

The family has asked all donations to be sent to South Irvine Christian Church (310 Lincoln Avenue, Irvine, Kentucky 40336) in care of Betty Roberts, The Compassionate Care Center of Richmond, Kentucky in Lloyd's name, or The Wounded Warriors project.