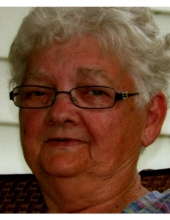 Obituary for Linda Sue Thacker
Linda Sue Thacker, age 77, of Broaddus Crossing in Ravenna passed away Sunday, November 22, 2020, at the Compassionate Care Center following a short illness. She was born August 6, 1943 in Mingo Co., West Virginia and was the daughter of the late Taylor and Matewood Farley Hatfield. She was a homemaker and former employee of Ravenna Food Mart, Food World and Irvine Health Care. She attended the Ravenna Nazarene Church and had lived in Estill County most of her life. She was preceded in death by her husband, Marcus Wayne Thacker, Sr. and is survived by:
3 sons: Marcus W. (Donna) Thacker, Jr. - Ravenna
Hoy V. (Teresa) Thacker - Irvine
Jesse T. (Sandy) Thacker - Ravenna
1 daughter: Matewood Kortbein - Ravenna
1 sister: Mercedes Jordan - Mississippi
1 brother: Halcy Hatfield - West Virginia
6 grandchildren: Marcus W. Thacker, III, Michael A. Thacker, Jessica D. Thacker, Dylan J. Kortbein, Jason T. Thacker and Gavin M. Thacker
2 great grandchildren: Ava M. Kortbein and Felix A. Flynn
She was preceded in death by 4 brothers, Ance, Walker, Eddie and James Hatfield.
Due to Covid-19, graveside services will be conducted Friday, November 27, 12 PM at the Sunset Memorial Gardens by Bro. John Anderson. The Warren F. Toler Funeral Home is in charge of arrangements.