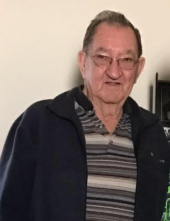 Obituary for Lewis Edward Kirby
Lewis Edward Kirby, age 84, of Pea Ridge Road in Irvine passed away Saturday, January 25, 2020, at Baptist Health in Richmond after a long illness. He was born January 7, 1936 in Estill County and was the son of the late Elihue and Hallie Kirby. He was a retired brick mason. He lived in Estill County all his life. He is survived by:
1 Daughter: Sherry (Larry) Freeman - Estill Co.
1 Son: Phillip (Rosetta) Kirby - Estill Co.
4 Grandchildren: Bradley Kirby, Matt (Heather) Kirby, Heather (Kenneth) Brooks, Brittany (Thomas) Addison
5 Great Grandchildren: Haylee and Hayden Brooks, Jared Addison, Rhett and Eason Kirby
He was preceded in death by his wife, Dorothy Johnson Kirby, 5 sisters; Alberta Ashcraft, Maggie Hardy, Chaney Riddell, Mattie Walters, Elizabeth Hardy and 5 brothers; Joe, Mid, Robert, Hugh Jr., and Eugene Kirby.
Funeral services will be conducted Friday, January 31, 2 PM at the Warren F. Toler Funeral Home by Bro. Jerry Rose. Burial will be at the Kirby Cemetery. Friends may call between 11 AM and 2 PM Friday at the Warren F. Toler Funeral Home.