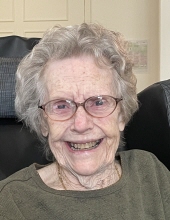 Obituary for Lena Pearl Neikirk
Lena Pearl Neikirk, age 91, of Main Street in Irvine, passed away Tuesday, August 24, 2021, at the Warm Hearth Kroontje Memory Care Center following a long illness. She was born November 17, 1929 in Irvine, KY and was the daughter of the late James Rice McGee and Nannie Kate Noland McGee. She was a homemaker and a former employee of the Loudoun Co. Public Schools and Health Department. She attended the Purcellville Baptist Church in Loudoun Co., VA and the First Christian Church in Irvine. She was preceded in death by her husband, Raymond Oliver Neikirk and is survived by:
3 sons: Karl Wesley (Maridele) Neikirk - Winchester, VA
Jeffrey Raymond (Dottie) Neikirk - Blacksburg, VA
Paul Curtis Neikirk - Estill Co.
1 sister: Eva Faye Miller - Estill Co.
5 grandchildren: Violet Neikirk, Jess Neikirk, Sarah Werner, Rose Mitchell and Hannah Neville
3 great grandchildren: Lana Neikirk, Luke Werner and Noah Werner
She was preceded in death by her son, Brenton Raymond Neikirk and 4 siblings; Annie Baber, Ina Ruth Powell, James McGee and Oakley McGee.
Funeral services will be conducted Friday, August 27, 10 AM at the First Christian Church with Bro. Adrian McKinney and Bro. Greg Humpert officiating. Burial will be at the South Irvine Cemetery. Visitation will be held Thursday from 7 to 9 PM at the Warren F. Toler Funeral Home and after 9:30 AM Friday at the Church.