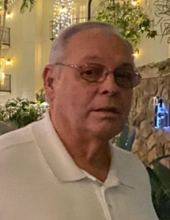 Obituary for Larry David Noland
Larry David Noland, age 71, passed away Thursday, December 15, 2022 at the Compassionate Care Center (Hospice) in Richmond, KY after a diagnosis of pancreatic and liver cancer. Larry lived only six weeks after his diagnosis and treatment. He will be greatly missed by all of his family and friends.
Larry was born to the late Shannon and Edith Noland on March 2nd, 1951.
Larry attended Estill High School where he received many honors and awards for his basketball skills.
He received a scholarship to Mt. Olive Junior College in North Carolina where he attended for one semester. Larry loved basketball and was an avid UK Wildcat fan.
Larry's work career began with the Coal Wash in Irvine for a year, the KY State Highway
Department for a year and then moved to his career with the railroad beginning in June of 1974 with the L & N Railroad (later CSX) where he held positions from laborer in the Track Department, Foreman, Track Inspector, Rail Oiler and finally became a Supervisor. Larry retired after 37 years at age 60.
Larry liked working on the railroad, but he loved the men he supervised.
After retirement, Larry began working part-time at the BP Station in Irvine where he loved meeting old friends and making new ones.
Larry married Betsy Bush Noland in April, 1972 and they had one daughter, Leeann Danielle Noland.
Leeann has been his pride and joy and the light of his life.
Larry is survived by his sisters, Doris Sue Isaacs (Jesse Lynn), Shanetta Flynn, Donna Ann Young (Carl), a brother Mark Allen Noland, a number of nieces and nephews all of whom he loved dearly.
He is also survived by Leeann, his daughter, and Betsy, his ex-wife.
Larry was baptized many years ago and he, Betsy and Leeann became members of the Broadway Christian Church in Lexington 20 years ago.
Funeral services will be conducted Monday, December 19, 1 PM at the Warren F. Toler Funeral Home Chapel with Bro. Glyndon Woosley officiating. Burial will be at the Sunset Memorial Gardens. Visitation will be held Sunday from 6 to 9 PM at the Funeral Home.
Pallbearers: Ray Mills, Gerald Rader, Gary Newton, Michael Hardy, Howard Rogers and Danny Stacy
Honorary Pallbearers: Robert Sewell, Roger Harkins, Kenny Floyd, Earl Blackwell and Curt Goodwin