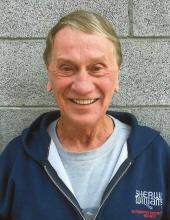 Obituary for Kenneth N. Snowden
Kenneth N. Snowden, age 75, of Poplar Street in Ravenna, passed away Sunday, October 31, 2021, at his home following a short illness. He was born October 7, 1946, in Estill County and was the son of the late Ralph Nelson Snowden and Alma Witt. He was a retired CSX employee and served in the U.S. Army during the Vietnam Conflict. He had lived in Estill County all his life. He is survived by:

His wife: Mary Sharon Damrel Snowden

2 sons: Craig Snowden - Estill Co.
Justin Snowden - Estill Co.

1 step-daughter: April Mullins - Estill Co.

1 step-son: Joshua Cartwright - Estill Co.

1 sister: Wanda Rotarius - Michigan

2 grandchildren: Raelyn Snowden
Lane Snowden

He was preceded in death by his parents and his sister, Alma Joyce Snowden


Graveside services will be conducted Wednesday, November 3, 1 PM at the West Irvine Cemetery with military honors to be performed. Visitation will be held Wednesday from 11 AM to 1 PM at the Funeral Home.