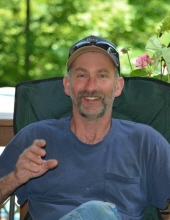 Obituary for Kelvin Thomas Phillips
Kelvin Thomas Phillips, age 48, of Red Lick Road in Irvine passed away Monday, October 19, 2020, at the Baptist Health Hospital in Lexington following a sudden illness. He was born September 29, 1972 in Mercer County and was the son of Wesley Thomas Phillips and the late Linda Carolyn Scott Phillips. He was a welder and a member of the Bruners Chapel Baptist Church. He was a wonderful Dad, a hard worker and was very loved by everyone who knew him. He was generous in life as he was in death through organ donation and several lives will be changed because of his selflessness. Survivors in addition to his father include:
His wife: Richele Kaye Raider Phillips
2 daughters: Katlyn Phillips - Frankfort
Kaylee Phillips - Irvine
3 sons: James (Emily) Johnson - Irvine
Chris Johnson - Irvine
Wesley R. Phillips - Irvine
2 grandchildren: Tinley Johnson and Zayah Johnson
His father & mother-in-law: Richard & Charlotte Raider - Ravenna
Siblings: Roby Raider - Ravenna
Ryan Raider - Ravenna
Ricky (Brandy) Raider - Ravenna
Robert (Candy) Daugherty - Mayfield
Nieces & nephews: Skyler & Blake Raider, Landon Baskin, Mason & John Raider
Many friends and other relatives
Funeral services will be conducted Saturday, October 24, 11 AM at the Emmanuel Baptist Church by Bro. Sherl Thomas. Burial will be at the Sparks Cemetery. Friends may call between 6 and 9 PM Friday at the Emmanuel Baptist Church. The Warren F. Toler Funeral Home is in charge of arrangements.