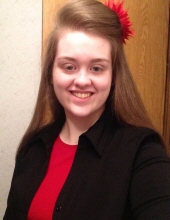 Obituary for Karley Beth Sparks
Karley Beth Sparks, age 21, of Crooked Creek Road in Irvine, passed away Wednesday, August 7, 2019 at her home following a sudden illness. She was born in Montgomery County on August 6, 1998 to Rodney Delbert Sparks and Linda Kaye Hamm Sparks. She was a caregiver for her mother and a member of the Pine Grove Pentecostal Holiness Assembly. She lived in Estill County all her life. She is survived by:

Her parents: Rodney and Linda Kaye Sparks
Her Grandparents: Ona Lee Sparks - Madison County
Geneva Carol Hamm - Estill County
1 Brother: Lester Eli (Laura) Sparks - Estill County
Her niece: Kenlie Sparks
Funeral services will be conducted Saturday, August 10, 10 AM at the Warren F. Toler Funeral Home by Bro. Sidney Sparks. Burial to follow in the Walton Cemetery. Friends may call between 6-9 PM Friday here at the Warren F. Toler Funeral Home.