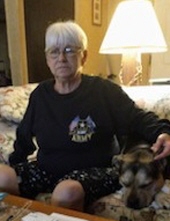 Obituary for Judy P. Stacy
Judy P. Stacy, age 69, of Sandhill Road in Irvine, passed away Thursday, December 31, 2020, at the Marcum & Wallace Memorial Hospital. She was born June 30, 1951 in Irvine and was the daughter of the late Dennis and Helen Johnston Stacy. She was a former Carhartt, Inc. employee and retired from the Bluegrass Army Depot. She was a member of the Knob Lick Baptist Church and had lived in Estill County most of her life. She is survived by:
Her daughter: Matricia Earl (Tim) Striblin - Estill Co.
3 sisters: Joan (Kenny) Murphy - Estill Co.
Janey (Cecil) Bishop - Estill Co.
Jenny (Mike) Collins - Estill Co.
1 brother: Joe (Sue) Stacy - Madison Co.
4 grandchildren: Thomas, Kiri, Raymond and Billy
1 great grandchild: Malachi
She was preceded in death by her daughter, Melissa Paulette Estes and 2 brothers, Jerry and Jack Stacy.
There are no services scheduled at this time. The Warren F. Toler Funeral Home is in charge of arrangements.