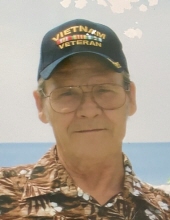 Obituary for John Wayne Cannon
John Wayne Cannon, age 72, of Mockingbird Lane in Irvine, passed away Sunday, October 9, 2022, at his home following a short illness. He was born November 7, 1949, in Sumiton, Alabama and was the son of the late Ivan Gilbert Cannon and Ruby Lee Pugh Cannon. He was an ordained minister and a retired T.K. Mining employee. He was a United States Army veteran of the Vietnam Era. He was the father of three and a Dad to many. He is survived by:
1 daughter: Megan Cannon - Sumiton, Alabama
2 sons: Johnathan Pugh - Sumiton, Alabama
Joey Fuller - Irvine
3 sisters: Glenda Ortiz - Buford, Georgia
Ruby Mills - Elkmont, Alabama
Nancy Brunken - Pell City, Alabama
6 grandchildren, 10 nieces and 10 nephews
He was preceded in death by his parents, his wife, Nina Justice Cannon, 2 sisters, Doris McKenzie, Shirley Jones and 3 brothers, Milton, William Junior and Jimmy Cannon.
No memorial services are scheduled at this time. Burial will be at the Camp Nelson Cemetery.
The Warren F. Toler Funeral Home is in charge of arrangements.