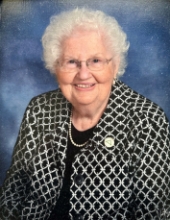 Obituary for Joann B. Hughes
Joann Broaddus Hughes, 91, Irvine, widow of Paul Hughes, died Thursday, March 16, 2023 at her home. She was born at Millers Creek in Ravenna, KY on June 13, 1931 the daughter of the late William and Willie Jo (Wilson) Broaddus. Following graduation from Estill County High School, she married the love of her life, Paul. They were married 60 years before his passing in 2011. She worked as an administrative assistant, store clerk, receptionist, and library aide in multiple counties across eastern Kentucky. She was a member of the First Christian Church of Irvine for more than 50 years, and was a member of several community organizations, including Irvine First Christian Church Christian Woman's Fellowship, Twin City Extension Homemakers, Irvine-Ravenna Woman's Club, and Four Seasons Garden Club. She enjoyed cooking, sewing, gardening, birdwatching, and reading, but her greatest joy was her family. She considered her children and grandchildren to be her greatest blessings in life.
In addition to her parents, and beloved husband, she was preceded in death by her siblings, Billy Wilson Broaddus, Charlie Broaddus, and Ema Jean Broaddus Niles. She is survived by six children, Paula (Tony) White, Berea, KY, Bill Hughes, Annapolis, MD, Ed (Teresa) Hughes, Arlington, TX, Curtis Hughes, Berea, KY; Patty Hughes (Ken Burton) Lexington, KY, and Ann (Jeff) Burns, Richmond, KY; thirteen grandchildren, Jason (Hillary) White, Stafford, VA, Joe (Laurie) White, Berea, KY, Nora (Toby) Lewin, Felicity, OH, Amber (John) Miller, Sugarland, TX, Meghan Hughes, Washington, D.C., Selena (Mauricio) Valdez, Leander, TX, Brian Hughes, Arlington, TX, Samantha (Burns) Mijanovich, Weaverville, NC, Cody Hughes, Berea, KY, Jason (Christina) Burton, Commerce City, CO, Matthew (Gerlie) Burton, Aviano, Italy, Katie (Alex) Maynard, Irvine, KY, and John Powell, Louisville, KY; nineteen great-grandchildren; two sisters, Bettie Sue Broaddus, Lexington, KY, and Dorothy (Kevin Kunz) Broaddus, Lafayette, IN; three sisters-in-law, Louella Seale, Nicholasville, KY, JoAnn Hughes, Sharonville, OH, Jeanette Hughes, Irvine, KY., and several nieces and nephews.
The family will receive friends on Monday, March 20, 2023, from 6:00 PM until 9:00 PM at Toler's Funeral Home. Memorial services will be held on Tuesday, March 21, 2023, at 11:00 AM at Irvine First Christian Church with Dr. Joseph White officiating. Services will be livestreamed on the Irvine First Christian Church Facebook page. Interment will follow in Sunset Memorial Gardens in Irvine, Ky. Memorial contributions are suggested to the Paul B. Hughes Memorial Scholarship at Eastern Kentucky University or the charity of your choice.
The family wants to give special thanks to her long-term care givers, Evelyn Jones and Tina Broaddus. Their gentle, dedicated care was deeply appreciated.
Pall Bearers: Jason White, B.W. Broaddus, Brian Hughes, Cody Hughes, John Powell, Bill Hughes, Ed Hughes, Curtis Hughes. Honorary Pall Bearers: Her granddaughters.