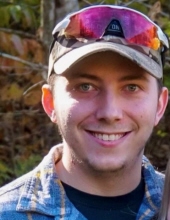 Obituary for Jeffery Chase Hatton
Jeffery Chase Hatton, age 26, of Twin Creek Road in Irvine, passed away Friday, October 28, 2022, at his home. He was born June 3, 1996, in Fayette County and was the son of Dwaine Jeffrey and Patricia Gail Marcum Hatton. He was a Pipe Welder and a Veteran of the National Guard. He had lived in Estill County for most of his life. In addition to his parents, he is survived by:
His wife: Kyra Cackling
His grandparents: Nettie Marcum - Estill Co.
Loretta Hatton - Estill Co.
Dwaine Hatton - Powell Co.
1 son: Annakin Zane Hatton
1 sister: Kalea (Zachary) Currey - Clark Co.
1 half-sister: Ashley (Donnie) Isaacs - Estill Co.
1 half-brother: Andrew Hatton - Estill Co.
1 nephew: Keelan Reese Currey
Memorial services will be conducted Tuesday, November 1, 6 PM at the Warren F. Toler Funeral Home Chapel. Visitation will be held Tuesday from 4 to 6 PM.