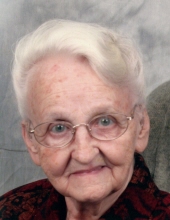 Obituary for Janie Ruth Sparks
Janie Ruth Sparks, age 84, of Elliston Road in Richmond, passed away Friday, April 12, 2019, at her home following a long illness. She was born July 18, 1934 in Lee County and was the daughter of the late Sherman Barrett and Nannie Jones Barrett Dozier. She was a homemaker and a member of the Waco Pentecostal Tabernacle. She had lived in Estill County most of her life. She is survived by:
Her husband: Sidney Sparks, Sr.
6 Daughters: Delorice Riddell - Irvine
Naomi Gabbard - Mt. Vernon
Wanda Murphy - Irvine
Thelma Brinegar - Irvine
Charlene Brinegar - Berea
Marsha Sparks - Richmond
5 Sons: Sidney Sparks, Jr. - Richmond
Linville Ray Sparks - Berea
Ronnie Sparks - Richmond
Kenneth Sparks - Waco
Franklin Sparks - Mt. Vernon
1 Sister: Eva Collins - Irvine
21 Grandchildren 50 Great Grandchildren 2 Great-Great Grandchildren
She was preceded in death by 1 daughter, Shirley Faye Sparks and 1 son, Otis Wayne Sparks, 3 sisters; Blanche Sparks, Liza Barrett, Ruby Sparks, 4 brothers; John, Claude, Charlie and Lester Barrett and 1 step-sister, Lillie Mae Luster.
Funeral services will be conducted Tuesday, April 16, 1 PM at the Warren F. Toler Funeral Home Chapel by Bro. Sidney Sparks, Jr. and Bro. Franklin Sparks. Burial will be at the Boian Cemetery. Friends may call between 6 and 9 PM Monday at the Warren F. Toler Funeral Home.