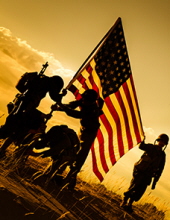 Obituary for James Hugh Arthur
James Hugh Arthur, age 88, of Cow Creek Road in Ravenna, passed away Thursday, November 1, 2018, at the Compassionate Care Center following a long illness. He was born October 8, 1930 in Estill County and was the son of the late Pryse and Ethel Wilson Arthur. He was a former employee of the Kentucky State Engineering Department and retired from Bundy Tubing in Winchester. He was a United States Army veteran of the Korean Conflict. He was a member of the Cow Creek Baptist Church and had lived in Estill County all his life. He is survived by:
His wife of 64 years: Emma Jones Arthur
1 Son: James Lee Arthur Estill Co.
1 Brother: Billy Pryse (Patsy) Arthur Fayette Co.
1 Grandchild: Stephanie LeeAnn (Lloyd Samuel) Woolery Fayette Co.
He was preceded in death by 1 brother, Walter Lewis Arthur.
Funeral services will be conducted Sunday, November 4, 2 PM at the Warren F. Toler Funeral Home Chapel. Burial will be at the Oakdale Cemetery. Friends may call between 6 and 9 PM Saturday at the Warren F. Toler Funeral Home.
In lieu of flowers, donations are suggested to Hospice Care Plus, 208 Kidd Drive, Berea, KY 40403 or call 1-800-806-5492.