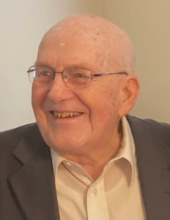 Obituary for James Franklin Smith
James Franklin Smith, age 87, of Seventh Street, Ravenna, KY, passed away Wednesday, March 8, 2023, at his home, following a brief illness. He was born April 8, 1935, in Whitley County, KY, the son of the late Frank Smith and Mary Powers Smith. He was an active member of Salem Baptist Church at Spout Springs in Estill County.
Best known as "Brother Smith", this beloved pastor and teacher served as a schoolteacher in Wolfe and Lee counties, and substitute teacher in Estill County. Throughout his more than 50 years of service, he pastored Heidelberg Baptist Church, Stone Coal Baptist Church, Friendship Baptist Church, and Nada Baptist Mission. He served as Director of Missions in Enterprise Baptist Association and Boone's Creek Baptist Association. In 1999, he was selected as Director of Missions of the year for the Kentucky Baptist Convention.
Most think of giants as being tall, but he may have been the only 5'3" ("and a half") giant who ever lived. He certainly was a giant in love, faith, mercy, compassion, kindness, and generosity. Having cared for his beloved wife every day for 8 years until her passing three years ago, he was a model husband, as well as; a model son, brother, dad, grandfather, and great-grandfather. From his confession of faith as a twelve-year-old until his passing, he continued to walk faithfully, completely trusting in Jesus Christ as his Savior and Lord. This week, his Bible lay ready in his chair for the next daily reading. His last completed devotional lay completely underlined for every day in the past quarter. His new devotional and new Sunday School book lay ready for study. Yet, he went to sleep, and he was not, for (much like Enoch), "he walked with God, and he was not, for God took him" – on what would have been his 65th wedding anniversary.
He is preceded in death by his loving wife, Jean Spencer Smith of Ravenna; son, Jeffrey Wade Smith of Ravenna; brother Kenneth Smith of Lafollette, TN; and two sisters: Myrtle Katz of Dayton, OH, and Marie Drake of Dayton, OH. He is survived by son Jerry (Dianne) Smith of Irvine; brother Chester (Jeanette) Smith of Felicity, OH; sister Naomi (Ed) Sears of Whitley County, KY; brother Lloyd (Juanita) Smith of Andersonville, TN; brother Walter (Carol) Smith of Riverside, OH; brother Wayne Smith of Powell, TN; brother David Smith of Whitley County, KY; sister-in-law Ella Mae Smith of Lafollette, TN, Grandchildren: Phillip (Julie) Smith of Richmond, KY, Matthew Smith of Richmond, KY, Kristin Usry of Tampa, FL, and Shelby Kennedy of Tampa, FL; Great Grandson James Norwood Smith of Richmond, KY; and a host of family and friends.
Funeral services will be conducted Friday, March 10, 11 AM at the Warren F. Toler Funeral Home by Bro. Jerry Smith. A separate graveside service will be conducted at 1 PM at the H.C. Spencer family cemetery in Rogers, KY. Friends may call between 6 and 9 PM Thursday, March 9, at the Warren F. Toler Funeral Home. In lieu of flowers, friends and family may send donations for mission work to Salem Baptist Church, 4470 Spout Springs Road, Irvine, KY 40336.
Pallbearers will be: Phillip Smith, Matthew Smith, Chester Smith, Wayne Smith, Harold Smith, and Mark Barnett.