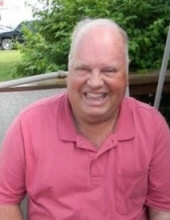 Obituary for Harry Martin Crowe
Harry Martin Crowe, age 78, of Edgewood Drive in Irvine, passed away Saturday, January 7, 2023, at the Marcum and Wallace Hospital following a short illness. He was born May 1, 1944, in Estill County and was the son of the late William Allen and Celia M. Witt Crowe. He was a retired Brakeman and Conductor for CSX and a member of the Mt. Carmel Christian Church. He was a member of the Masonic Lodge #562 and had lived in Estill County all his life. He is survived by:
His wife: Geraldine Fielder Crowe
1 daughter: Jennifer (Billy Bruce) Wiseman - Estill Co.
1 son: Brian Keith (Kristi) Crowe - Estill Co.
1 sister: Sylvia Henderson - Estill Co.
1 brother: Danny Crowe - Estill Co.
3 grandchildren: Caleb Tanner (Meradith) Crowe, Jessica – Loren (Cody) Wiseman Marshall, and Taylor Page Wiseman
4 great grandchildren: Laira Blake Marshall, Braxton Crowe, Rhys Crowe, and Crew Marshall
In addition to his parents, he preceded in death by 1 brother, Allen Crowe Jr., and 1 grandson, Blake Kristopher Crowe.
Funeral services will be conducted Wednesday, January 11, 11 AM at the Mt. Carmel Christian Church with Bro. Mark Pearson officiating. Burial will be the Crowe Cemetery. Visitation will be held Tuesday, January 10, from 6 to 9 PM at the Warren F. Toler Funeral Home and on Wednesday from 9 AM to 11 AM at the Church.
Pallbearers: Tanner Crowe, Billy Wiseman, Blake Crowe, Cody Marshall, Bucky Wilson, Billy Dean Arthur, Wayne Crowe, Tony Murphy, and Anthony Arthur
Honorary Pallbearers: Jonathon Webb, Steve Adams, Vernon Muncie, William Hardy, Phillip Thomas, Paul Walters, Jerry Chaney, Phil Cox, Dylan Arthur, Jerry Samples, Darrell Calmes, Donnie Tipton, Rick Frazier, Arnold Patrick, Randall Osborne, Clarence Rison, Marty Arthur, Clyde Young, and Bobby Crowe