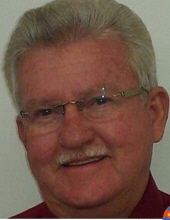 Obituary for Harold Wayne Dennis
Harold Wayne Dennis, age 72, of Moberly Road in Richmond, passed away Tuesday, November 20, 2018, at his home following a short illness. He was born November 23, 1945 in Estill County and was the son of the late R.J. and Mandy Marie Means Dennis. He was owner & operator of D&D Auction Company and was a member of the Ravenna Church of God. He loved playing the guitar and singing gospel music with his family. He enjoyed being a faith builder and traveling for God spreading the Word through song. He is survived by:
His wife of 53 years: Barbara Clella Gordon Dennis
3 Daughters: Pam (Isaac) Ross Richmond
Debbie Beair Winchester
Loved as his own: Barb Dawes Richmond
3 Sons: Ricky (Kathy) Plowman Clay City
Wayne (Kathy) Plowman Winchester
Mike Plowman Clay City
5 Sisters: Myrtle (Ronnie) Conrad Irvine
Sylvia (Julian) Cain Irvine
Lella (Hargus) Gordon Irvine
Oramae (Lemmie) Bridges Lexington
Bonnie Jones Irvine
2 Brothers: Earl Dennis Richmond
Delbert Dennis Carlisle
12 Grandchildren 26 Great Grandchildren 6 Great-Great Grandchildren
Several nieces and nephews
He loved all his grandkids, but, Randigail, your Papaw loved you so much because he helped raise you. Savannah and Tosha, you girls have always been so close to Papaw and you also held a very special place in his heart. He loved his girls.
He was preceded in death by 1 sister, Margaret Dennis and 1 brother, Cecil Dennis.
Funeral services will be conducted Sunday, November 25, 2 PM at the Warren F. Toler Funeral Home Chapel by Bro. Gene Johns. Burial will be at the Flatwoods Cemetery. Friends may call between 6 and 9 PM Saturday at the Warren F. Toler Funeral Home.