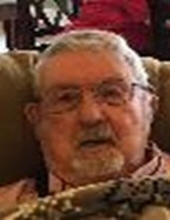 Obituary for Harold Lovin
Harold Lovin was born March 30, 1931 to Henry and Stella (nee Powell) Lovin and passed away October 20, 2020 at the age of 89.
He is survived by his children, Linda Smith, Betty (Todd Hawkins) Bell, Clyde Lovin, Larry (Karen) Lovin; grandchildren, Tina Reichert, Michael Smith, Jennifer Stacey, Tammy, Kelly, Christy Fightmaster, David Lovin, Amanda Means, Sarah Saunders, Jamie, Dustin, Timmy Lovin, Tabitha Nelson and Brandon Lovin; and numerous great grandchildren.
In addition to his parents, he was preceded in death by a son Harold Wayne Lovin; brothers, Odie Lovin and James Lovin.
Graveside services will be held on Sunday October 25, 2020 at 2 PM at the West Irvine Cemetery, Irvine, KY.
Family requests flowers or memorial contributions be directed to the Goshen Warrior Packs Food Program by visiting paypal@goshenwarriorpacks.com or any Lebanon Citizens National Bank branch.