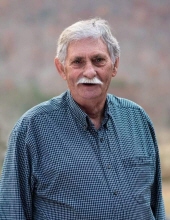 Obituary for Harold Lee Isaacs
Harold Lee Isaacs, age 80, of Red Lick Road in Irvine, passed away Monday, January 9, 2023, at his home following a long illness. He was born August 28, 1942, in Estill County and was the son of Leonard and Bethel Richardson Isaacs. He retired from Sherwin Williams and attended the Church on the Rock. He had lived in Estill County all his life. He is survived by:
His wife: Ora Lee Harris Isaacs
2 daughters: Kellie (Mark) Benton - Madison Co.
Tammy (Mike) Long - Estill Co.
1 son: Harold Scott Isaacs - Estill Co.
4 grandchildren: Kayla (Cody) Vinsant, Rachel Benton, Jess Michael Long, Shailyn Isaacs
1 great grandchild: Parker Tate Vinsant
He was preceded in death by his parents, 5 sisters, Arlene (Harold) Worrell, Bobbie Jean (Laban) Harrison, Annette (Paul) Coyle, Marcella (Jimmy) Doty, Louella (Charles) Rose and 2 brothers, Russell Isaacs and Jerry Isaacs.
Funeral services will be conducted Thursday, January 12, 1 PM at the Warren F. Toler Funeral Home Chapel with Bro. Owen Moody officiating. Burial will be at the Joe Miller Cemetery. Visitation will be held Thursday from 11 AM to 1 PM at the Funeral Home.
In lieu of flowers, donations are suggested to Hospice Care Plus at 208 Kidd Drive, Berea, KY 40403 or to someone in need.
Pallbearers: Mark Worrell, Larry Coyle, Todd Doty, Matthew Harrison, Colby Baber, and Jay Neal
Honorary Pallbearers: Alan Coyle, Greg Coyle, Steven Harrison, Gary Worrell, Chris Harris, and Freddy Noland