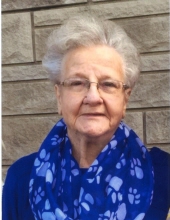 Obituary for Faye Meek
Faye Meek, age 91, of Main Street in Ravenna, passed away Saturday, June 19, 2021, at the Compassionate Care Center following a long illness. She was born June 6, 1930 in Estill County and was the daughter of the late Leonard and Anna McIntosh Spicer. She was retired from Carhartt, Inc. and was a member of the Ravenna Church of God. She had lived in Estill County all her life. She was preceded in death by her husband, Cecil Clay Meek and is survived by:
2 daughters: Debby Tillery - Estill Co.
Karen (James) Cochran - Madison Co.
2 sons: Randall (Jill) Meek - Fayette Co.
Scotty (Kaye) Meek - Estill Co.
6 grandchildren: Selena (Anthony) Neal, Chris Miller, Jade (Adam) Hale, Tyler (Cagney) Meek, Brooklyn (Algin) Moreland and McKinley (Kordel) Meek
7 great grandchildren: Stevi Neal, Halee Neal, Lily Kate Hall, Josiah Meek, Jordyn Meek, Addyson Moreland and Reed Moreland
She was preceded in death by 5 sisters, Bertha Spicer, Flossie "Dot" Newton, Gladys Isaacs, Oneida Combs, Opal Longo and 6 brothers, Buell, Dwight, Earl, Cecil, Leonard Jr. and Leslie Spicer.
Visitation will be held Monday, June 21, between 6 and 9 PM at the Warren F. Toler Funeral Home followed by cremation.