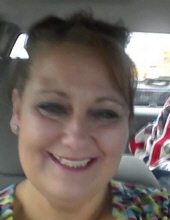 Obituary for Etta Jennel Tipton
Etta Jennel Tipton, age 53, of South Irvine Road in Irvine, passed away Thursday, April 15, 2021. She was born November 3, 1967 in Madison County and was the daughter of the late Jerry "Stack" and Phyllis Abshear Tipton. She was a homemaker and had lived in Estill County most of her life. She is survived by:
Her step-mother: Linda Isaacs - Irvine
3 daughters: Theresa (Nick) Parsons - Mt. Vernon
Jeri Sneed - Estill Co.
Brandy (Brian) Crim - Estill Co.
2 sisters: Debra Dunaway - Clay City
Jasmine Tipton - Irvine
1 brother: Jerry Sparks - Florida
6 grandchildren and several nieces & nephews
She was preceded in death by 1 brother, Brian Keith Tipton and 2 Grandchildren, James Sneed and Allyssa Crim.
Visitation for the public will be held Wednesday, April 21, 11 AM to 1 PM at the Warren F. Toler Funeral Home. Private funeral services will be conducted by Bro. Chad Burdette.