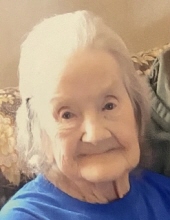 Obituary for Ethel Willis
Ethel "Gran" Powell Willis, 84, of Waco passed away on Tuesday, November 15, 2022. She was the daughter of the late George and Sallie Mae Powell of Red Lick in Madison County. She lived in Estill County for her young life. She married Edward E. Willis on July 10, 1953. Together they had one daughter, Elizabeth Sue (Dennis) Coffey, who survives her. She is also survived by her sister, Lullie Dixon and two granddaughters, Crystal (Donald) Gordon of Union City, and Kimberly (Greg) Young of Richmond. She is survived by one great grandson, Austin Gordon (Erin Wade) and two great granddaughters, Kaitlyn Young and Shana Young, four great-great grandchildren, Grayson, Liliana, Wesley and Alara. She is also survived by many nieces and nephews who called her Aunt Boss.
She was preceded in death by one granddaughter, Melanie Lynn Coffey and 4 sisters, Edith Goosey, Ruby Powell, Susie Dixon, and Grace Scenters.
Gran loved flowers, birds, especially cardinals, and cooking. She especially loved her family and friends.
Graveside services will be conducted Friday, November 18, 3 PM, at the Kindred Cemetery with Bro. Dylan Ballard officiating.
Pallbearers: Austin Gordon, Donald Gordon, Gary Lochart, Jerry Dixon, Tommy Willis and Charlie Willis