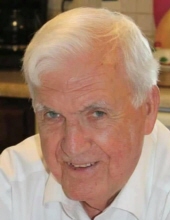 Obituary for Emanuel Blackwell Jr.
Emanuel Blackwell, Jr, 94

Emanuel Blackwell, known as Junior, of Irvine, Ky, died Wednesday, September 29, 2021, at Kenwood Health and Rehabilitation in Richmond, Ky, following a short illness.
Born May 1, 1927, he was the son of the late Emanuel Blackwell, Sr, and Ethel Allen Blackwell.
He was a member of the Irvine United Methodist Church, where he served as Sunday School Superintendent, long-time member of the choir, and served on many boards.
He was a veteran of WWII, serving from 1945-1948. He was stationed in Shanghai, China. He was a part of the Air Force Army, and was an international radio operator of the Morse code. He was aboard the Honor Flight in 2015.
He married Juelma Marlowe in 1953 after returning from the service. They had three children, Rosemary Barnes, Rebecca Carr, and Jim Blackwell.
He was a heavy equipment operator, starting his career with Codell Construction Company. He worked at Bluegrass Army Depot and retired from Southeast Coal Company.
He was a member of Irvine Lodge #137F&AM, serving as Master in 1972 and 1998. He was a member of the York Rite Irvine Chapter #92 Royal and Select Masons.
He served as secretary of the City of Irvine Utilities Commission from January 1, 1990, through December 31, 2014.
He loved singing and was a part of the Irvine Community Choir. He was an avid golfer, and enjoyed teaching his grandchildren how to play. He loved family trips to Hilton Head Island. He was a skilled basket-weaver and his baskets live on through his family. He also enjoyed playing cards with his buddies. As well as fishing and being on the water.
Survivors include two daughters, Rosemary Barnes (Roger) Mt. Sterling, and Rebecca Carr (Jim) Richmond; daughter-in-law, Kim Blackwell, Irvine; eleven grandchildren, Mary Lynn Richardson, June Allison McCreary, Marlowe Steger, Maria Pennington, Gina Rose, Christopher Carr, Lesley Oswald, Lance Blackwell, Chase Blackwell, Jerry Von Chaney, Niki Lainhart; 26 great-grandchildren; two great great-grandchildren; two sisters, Katsy Witt and Barbara Shoemaker both of TN; and numerous beloved nieces and nephews.
He was preceded in death by his wife, Juelma Marlowe Blackwell; son, James (Jim) Blackwell; sister, Jeweldine Welch, and brother, Gene Allen Blackwell.
Service will take place graveside, West Irvine Cemetery, Irvine, Ky, Tuesday, October 5, 2021, at 2pm with Masonic rights. All are welcome.
Pallbearers will be Christopher Carr, Chase Blackwell, Lance Blackwell, Parker McCreary, Evan Richardson, Seth Richardson, Jerry Von Chaney, and Will Richardson.
In lieu of flowers, donations are suggested to Irvine United Methodist Church, PO Box 810, Irvine, Ky 40336.