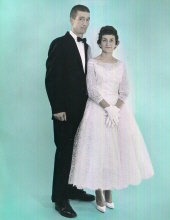 Obituary for Elwanda Allen
Elwanda Allen, age 79, of Tuttle Road in Irvine passed away Sunday, November 22, 2020, at Mercy Health in Cincinnati. She was born April 24, 1941 in Estill County and was the daughter of the late James Fred and Norma Dae Smyth. She was a former employee of the East Kentucky Power Cooperative and a member of the Independent Church of Lexington. She was preceded in death by her husband, Raymond Harold Allen and is survived by:
Her daughter: Ratonya Allen - Irvine
1 sister: Wathena (Charles) McKinney - Richmond
2 brothers: Elwood (Reva) Smyth - Florida
Lyndon Smyth - Irvine
Several nieces and nephews
Private funeral services will be conducted at the Warren F. Toler Funeral Home by Bro. James Hicks with burial at the Sunset Memorial Gardens.