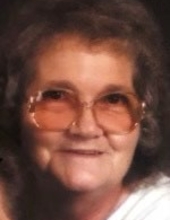 Obituary for Elsie King
Elsie King, age 81, of Barnes Mountain Road in Irvine, passed away Tuesday, April 18, 2023, at the Compassionate Care Center in Richmond following a long illness. She was born July 22, 1941, in Estill County and was the daughter of Omer and Georgie Mae Gilbert Williams. She retired from Carhart where she worked as a Seamstress. She was a member of the Beattyville Church of the Nazarene and had lived in Estill County all her life. She is survived by:
2 sons: Ricky Allen (Shirley) Isaacs - Lee Co.
Sammie Glen (Chasity) King - Estill Co.
1 sister: Rosalee Richardson - Estill Co.
1 brother: Gary Wayne Williams - Estill Co.
4 grandchildren: Lynn (Chris) Griffin, Ricky Allen (Jessica) Isaacs Jr., Brittney King, and Aiden King
4 great grandchildren: Hannah Isaacs, Mackensley Griffin, Hannah Barrett, and Emily Barrett
In addition to her parents, she was preceded in death by her husband, Sammie King, 1 sister, Dorothy Gabbard, and 1 brother, Delbert Williams.
Funeral services will be conducted Sunday, April 23, 2 PM at the Warren F. Toler Funeral Home with Bro. Randy Bowles officiating. Burial will be at the West Irvine Cemetery. Visitation will be held on Sunday from 12 to 2 PM.