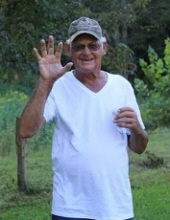 Obituary for Elmer Venice Bicknell
Elmer Venice Bicknell, age 79, of Locust Branch School Road in Irvine, passed away Tuesday, May 24, 2022, at his home following a short illness. He was born July 5, 1942 in Estill County and was the son of the late Leonard and Addie Mae Richardson Bicknell. He was a retired farmer and had lived in Estill County all his life. He is survived by:
His wife: Grethel Isaacs Bicknell
2 daughters: Peggy Young - Estill Co.
Jennifer (Eddie) Stephenson - Madison Co.
1 son: Robin (Lisa) Bicknell - Estill Co.
2 sisters: Eva Ramsey - Madison Co.
Joyce Webb - Madison Co.
5 brothers: Ernie Bicknell - Ohio
Kenneth Bicknell - Madison Co.
Carl Bicknell - Madison Co.
Randol Bicknell - Pulaski Co.
Gary Bicknell - Estill Co.
4 grandchildren: Hannah Eaton, Matthew Young, Chelsea Bicknell and Leonard Young
6 great grandchildren
He was preceded in death by his parents, his sister, Faye Day, and his brother, Darrell Bicknell.
Funeral services will be conducted Friday, May 27, 11 AM at the Warren F. Toler Funeral Home Chapel. Burial will be at the Kindred Cemetery. Visitation will be held Thursday from 6 to 9 PM at the Funeral Home.