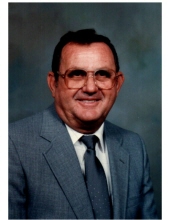 Obituary for Eldon Hughes
Eldon Hughes, age 88, of 50 Hughes Lane passed away Saturday, September 19, 2020 at UK Chandler Hospital after a long illness. He was born May 26, 1932 in Barren County to the late Kara (Adwell) and Reverend Ray Hughes. He lived in Estill County most of his life. He was also preceded in death by one brother Rollen Hughes.

He is survived by his wife of 43 years, Hope Hughes, two sons James Hood (Elizabeth) Hughes of Irvine, KY and Wayne (Diane) Hughes of Henderson, KY. Two granddaughters Melissa (Drew) Clements of Niagara, KY and Andrea Engelbrecht of Newburgh, IN. 4 great grandchildren, 1 sister Peggy Clines of Cave City, KY, 1 sister-in-law Lavana Hughes of Cave City, KY, 1 nephew Clay (Samantha) Ginter and 3 nieces Alison (Josh) Napier, Theresa (Jeff) Barbee and Melodye (Kelley) Gabbard.

Eldon was a member of Basil Chapel Baptist Church. He was a former employee of Codell Construction Company and a retired employee of South East Coal Company. Eldon loved being outdoors on his tractor, spending time with his family, and talking on the phone to his grandcat, Boog.

Funeral services will be conducted Wednesday, September 23, 2 PM at the Warren F. Toler Funeral Home Chapel by Bro. Joe Lahrmer. Burial will be at the Sunset Memorial Gardens. Friends may call from 11 AM to 2 PM Wednesday at the Warren F. Toler Funeral Home.

Pallbearers: Clay Ginter, Larry Davis, Donald "Duck" Johnson, Wilson Plowman, David Harrison and Raymond Conrad.