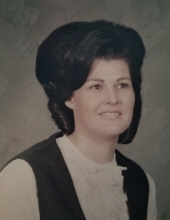 Obituary for Elaine Babb
Elaine Rawlins Babb, born May 23, 1941, to the late Johnnie and Eva Rawlins in Irvine, Kentucky, departed this temporary life for eternal life in heaven on Tuesday, November 9, 2021, in Austin, Texas.

Elaine spent most of her life in Irvine on White Oak Road, where she shared many happy memories with her five brothers and sisters. Here she met the love of her life, Fred Babb, and raised her two sons Larry & Gary. According to Elaine, being a mother is the greatest honor any woman can have. She attended the White Oak Church of God and was an active member, singing in the choir and helping out wherever she could. She was well known for her biscuits and gravy, blackberry jam, and fried apple pies. Elaine also enjoyed flower arranging, crafts, cooking, and canning. However, her favorite way to spend time was visiting with friends, family, and neighbors in the front yard.

Elaine is survived by her son, Larry, his wife Patty, and her granddaughter Hailee of Austin, Texas. Her brother Roger Dale Rawlins and sister Faye Stepp. Elaine leaves behind many nieces and nephews and their extended families, along with other relatives and friends who will miss her and mourn her passing while celebrating her life. Elaine considered many to be part of her family, including the workers at Sodalis Assisted Living in Buda, Texas.

Visitation will be held Friday, November 19 from 7pm to 9pm at Warren F. Toler Funeral Home. Funeral services will be conducted Saturday, November 20, 2021 at White Oak Church of God with Brother Glendon Woosley officiating. Church visitation will be at 11am, service will be at noon, followed by burial at Sunset Memorial Gardens.