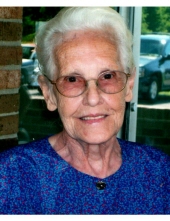 Obituary for Edna Spivey
Edna Spivey, age 88, of George Street in Irvine, passed away Saturday, January 4, 2020, at the Clark Regional Medical Center. She was born March 2, 1931 in Estill County and was the daughter of the late France Marion and Margaret Ann Webb Chamberlain. She was a homemaker and a retired factory worker. She was a member of the Lower Red Lick Holiness Church and had lived in Estill County most of her life. She was preceded in death by her husband, Delbert Spivey. She is survived by:
4 Daughters: Patricia Noe - Irvine
Jean Neal - Irvine
Joanne (Doug) Williams - Irvine
Lisa (Tommy) Walden - Irvine
4 Sons: Albert Randall (Sheila) Spivey- Irvine
Delbert Ray Spivey - Irvine
Harold (Peggy) Spivey - Irvine
Stephen E. (Vickie) Spivey - Irvine
1 Sister: Retha Alcorn - Frankfort
1 Brother: Charlie Chamberlain - Hamilton, OH
14 Grandchildren 30 Great Grandchildren 6 Great-Great Grandchildren
Special Helper: Kylie Stewart
She was preceded in death by 1 daughter-in-law, Jeanette Spivey, 10 siblings, 3 grandchildren and 2 great grandchildren.
Funeral services will be conducted Wednesday, January 8, 1 PM at the Warren F. Toler Funeral Home Chapel by Bro. Eugene Webb. Burial will be at the Alcorn Cemetery. Friends may call between 6 and 9 PM Tuesday at the Warren F. Toler Funeral Home.