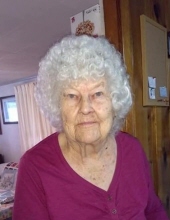 Obituary for Edna Johnson Rucker
Edna Johnson Rucker, age 90, of Wisemantown Road in Irvine, passed away Thursday, August 29, 2019, at her home after a long illness. She was born February 6, 1929 in Owsley County and was the daughter of the late George and Nellie Anderson Johnson. She was a retired farmer and a faithful member of the Beech Grove Baptist Church at Red Lick. She lived in Estill County most of her life. She was preceded in death by her husband of 71 years, John Nolan Rucker. She is survived by:
2 Sons: Roscoe (Mary) Rucker - Estill Co.
Glenn (Margie) Rucker - Estill Co.
1 Daughter: Katherine Rucker (Donald) Dixon - Estill Co.
1 Brother: Hubert Johnson - Estill Co.
4 Grandchildren: Allison Rucker, Rose Rucker, Stacey Rucker and Justin Dixon
2 Special Grandchildren: Shane Galloway and John Galloway
5 Great Grandchildren, 3 Step-Grandchildren, 8 Step-Great Grandchildren, and 1 Great-Great Grandchild
She was preceded in death by 4 sisters; Veneda Plowman, Edith Abney, Laura Jones, Clara Crowe, 3 brothers; Clarence, Virgil and Farris Johnson, 1 half-brother, Pierce Johnson and 2 half-sisters; Vicie and Elvira Turner.
Funeral services will be conducted Monday, September 2, 1 PM at the Warren F. Toler Funeral Home Chapel by Bro. Jason Brooks. Burial will be at the Miller Cemetery. Friends may call between 6 and 9 PM Sunday at the Warren F. Toler Funeral Home.