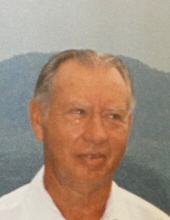 Obituary for Donnie C. Embs
Donnie C. Embs, age 89, of Tuttle Road, in Irvine, Kentucky, passed away at his home on Tuesday, June 1, 2021, after an extensive battle with cancer.

He was born December 17, 1931, in Estill County, a son of the late Delbert N. and Lenna Allen Embs. He spent most of his life in Estill and Clark Counties, except for a few years in Oxford, Ohio.

Although Donnie operated a country store in Clark County named Winetown Grocery for 20 years and worked several years at Bundy Tubing, his real love was farming and real estate. He successfully bought and sold many farms and houses in Clark and Estill Counties. He was a kind and generous man, always willing to help out when needed. He is survived by:

4 Sons: Dwayne Embs
Randall Embs
Gregory Embs
Michael Embs

4 Siblings: Doyle Embs (Diane) Lexington
Gary Joe Embs (Linda) Oxford, OH
Patricia Tudor (Robert) Lexington
Betty Winkle Irvine

8 Grandchildren: Jennifer Simpkins, Shawn, Ryan, and Cory Embs, Ashley Christi,
Alecia Maines, Jonathan and Macie Embs.

10 Great Grandchildren Several Nieces and Nephews

In addition to his parents he is also preceded in death by a Great Grandson, Dustin Simpkins, who died of cancer in 2012, a Sister, Marjorie Pennock, 2 Brothers, Delbert Embs Jr., and Larry Jack Embs.

Visitation for the public will be from 11 AM – 1 PM on Saturday, June 5th, at the Warren F. Toler Funeral home. Private funeral services will be conducted by Bro. Marvin Neal with burial at the Oakdale Cemetery.