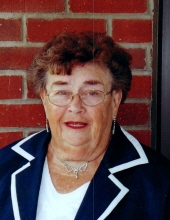 Obituary for Dolores Brown
Our beloved mother, Dolores (Frazier) Brown, passed away on May 14, 2019 into the loving arms of our heavenly father.
Dolores was born on January 2, 1928 in Gallup, KY to John Frazier, Sr., and Louise (Shivel) Frazier. She attended Gallup Elementary School from ages 4 to the age of 7. During that time, she lived with her family in an old log cabin in Gallup, KY. At about 8 years old, and for the next several years, she moved with her family to various locations; such as Sciotoville, OH; Chapman, KY; Martin, KY; and Auxier, KY; graduating early (at the age of 15) as a senior from Auxier High School. At age 17, Dolores went to cosmetology school in Paintsville, KY where she traveled to school each day and back by train. At age 18, she took a teaching position at Lost Creek (George's Creek) KY, which was a one room school house for grades 1st through 8th. It was during this time that she met the love of her life, Herman Brown, who had just returned from the war.
Dolores married Herman Lee Brown in Kentucky on March 22, 1947. They were married 53 years before Herman's death in February 2000.
Dolores was a devout Baptist; attending church in CA, OR and KY before her health declined and she was no longer able to attend. Her children were blessed to have been raised in church, where Dolores could often be found teaching Sunday School, Vacation Bible School, or involved wherever she was needed.
Dolores always loved life, people, and her family. Her mother gave her the nick-name "Spitfire". She was an avid and very competitive player of table games, the card game Rook being one of her favorites. She also enjoyed word games such as Scrabble and Upwards, and her favorite TV game show was Jeopardy. She also loved camping, fishing, and the outdoors, and in later years she particularly enjoyed fishing on her grandson's (Ronnie and Genia's) property.
Dolores was preceded in death by her parents, John Frazier, Sr., and Louise (Shivel) Frazier; and one brother, Donald Frazier. She is survived by her sister Virginia Dixon of OH; brother Johnny Frazier of FL; son Herman (Rosemary) Brown of Myrtle Creek, OR; daughter Linda McKinney of Irvine, KY, daughter Joyce (Jimmy) McKinney of Vancouver, WA; daughter Anita (Ron) Veik of Suthrelin, OR; daughter Teresa (Shane) Baird of Sutherlin, OR, as well as 16 grandchildren, 28 great-grandchildren, and 6 great-great grandchildren.
In lieu of flowers, memorial donations may be made to the Gallup-Chapman United Methodist Church, P O Box 763, Louisa, KY 41230.
Memorial services will be held at a later date.