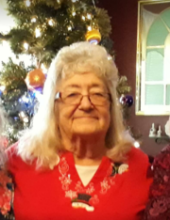 Obituary for Delma Joyce Kerby
Delma Joyce Peters Kerby, age 76, of Murphy Ford Road in Irvine, passed away Monday, June 1, 2020, at her home following a short illness. She was born December 1, 1943 in Clark County and was the daughter of the late Preston and Mattie Lee Richardson Wilson. She was a homemaker and member of the Wagersville Pentecostal Holiness Church. She had lived in Estill County most of her life. She is survived by:
Her husband: Marshall Kerby
2 daughters: Selena (Cecil) Hardy - Estill Co.
Cynthia (Chris) Epperson - Estill Co.
1 son: Darrell Ray (Rebecca) Spicer - Estill Co.
2 step-sons: Rick Kerby
Mike Kerby
6 grandchildren 10 great grandchildren
She was preceded in death by 2 daughters; Brenda Lee Peters and Donna Renae Peters Jones and 3 brothers; Ova, Cornelius and Howard Wilson.
Friends may call between 6 and 9 PM Thursday at the Warren F. Toler Funeral Home. Private funeral services will be conducted.