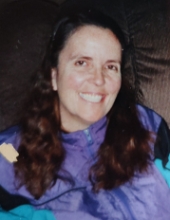 Obituary for Debra Sue Stone
Debra Sue Wallick Stone, age 73, of Twin Creek Road, Irvine, KY passed away Tuesday, April 25th.
She was born November 22, 1949, in Columbus, OH. She was the daughter of the late Louis and Elizabeth Welsh Wallick of Columbus, OH. She was the wife of Larry W. Stone of Irvine. She is survived by her husband Larry, her sister Connie Wallick Broadwater, her husband Tom; Mike and Rhonda Stone Childers; Kathy Stone; Conor Childers; Kathryn Paul; Jessica Chastain and Donnie Stone.
Debbie graduated from Mifflin High School in 1967 and attended Ohio State University where she attained her Ph.D. in Early Childhood Education. She began her teaching career in Kentucky and never left. She met her husband, Larry, of 42 years and became a true country girl.
Debbie taught in early education for many years; becoming Principal of Irvine Elementary and returning to her first love of teaching before her retirement. She then spent many happy years enjoying her cabin, family history, her hobbies of crafting, antiquing, her horses and her family. As a teenager, Debbie was very active in 4-H and the Polled Hereford Association. She was an accomplished singer and published author.
Funeral services will be conducted Friday, April 28, 1 PM at the Warren F. Toler Funeral Home with Bro. Kevin Turpin officiating. Burial will be at the Flatwoods Cemetery. Visitation will be held on Friday from 11 AM to 1 PM.
In lieu of flowers, donations are suggested to the Marcum and Wallace Hospital at 60 Mercy Ct. Irvine, KY 40336
Pallbearers: Conor Childers, Mike Childers, Tom Broadwater, Jimmy Stone, Donnie Stone, and Billy Stone