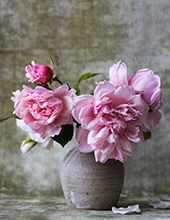 Obituary for Deborah Christine Luster
Deborah Christine Luster, age 59, of Poplar Street in Ravenna, passed away Wednesday, September 14, 2022, at the Baptist Health in Lexington following a long illness. She was born December 4, 1962, in Madison County and was the daughter of Luther and Lillie Mae Dozier Luster. She was a former IB Moore employee and had lived in Estill County most of her life. She is survived by:
2 daughters: LaDonna Michelle Luster - Nelson Co.
Krystal Dawn Luster - Estill Co.
1 son: Shawn Michael Luster - Woodford Co.
Her companion: Jerry Brown
1 sister: Goldie Hiten - Estill Co.
3 brothers: Doug Luster - Madison Co.
Charles Nelson Luster - Estill Co.
Paul Luster - Estill Co.
8 Grandchildren: Erica Tuttle, Nikki Tuttle, James Christian Johnson, Chelsea Lili Johnson, Devon Arterburn, Racheal Brown, Brittany Brown and Keith Brown
2 great grandchildren: Maverick and Ryker
She was preceded in death by her parents, 1 sister, Joyce Anita Peters and 4 brothers, James, Billy Wayne, Donald Ray and Kenneth Howard Luster.
Funeral services will be conducted Monday, September 19, 11 AM at the Warren F. Toler Funeral Home Chapel with Bro. Jerry Rose officiating. Burial will be at the West Irvine Cemetery. Visitation will be held Sunday from 6 to 9 PM at the Funeral Home.
Pallbearers: Herman Price, Jr., Timothy Glenn Luster, Scott Luster, Ricky Clark, Chase Becknell, Bryan Luster and Phillip Becknell