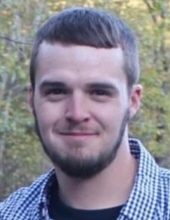 Obituary for David Todd Harrison
David Todd Harrison, age 32, of Eades Drive in Irvine, passed away Sunday, July 31, 2022, at the Jewish Hospital in Louisville following sudden illness. He was born May 4, 1990, in Madison County and was the son of David Timothy Harrison and the late Wendy Ann Maher Harrison. He was a construction worker and had lived in Estill County most of his life. He was an Organ Donor. He is survived by:
His father: David Timothy Harrison
His grandparents: David and Joyce Harrison
2 brothers: Bergin (Shavonna) Tuttle, IV
Michael Scott Tuttle
His uncle: Wes (Sherry) Harrison
His aunt: Lisa Harrison
1 niece: Micah La-Shaye Tuttle
1 nephew: Bergin Tuttle, V
His girlfriend: Aleah Smith
No memorial services are scheduled at this time. The Warren F. Toler Funeral Home is in charge of arrangements.