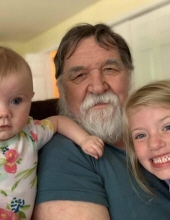 Obituary for Daniel Millard Alcorn, Jr.
Daniel Millard Alcorn, Jr., age 78, of Armour Street in Irvine, passed away Sunday, August 15, 2021, at the Mercy Health Hospital in Fairfield, Ohio. He was born June 18, 1943 in Estill County and was the son of the late Daniel and Edith Beckler Alcorn. He was the former owner of the Shepherd Truck Line and was a member of the Estill County Golf Club. He had lived in Estill County most of his life. He is survived by:
His wife: Melanie Bratton Alcorn
2 daughters: Jackie McGee - Richmond
Susan Freeman - Irvine
1 son: John (Michelle) Alcorn - Lexington
4 sisters: Joyce Harrison - Irvine
Anna Smyth - Richmond
Carolyn Neal - Irvine
Debbie Williams - Irvine
2 brothers: Harold Alcorn - Irvine
Kenneth Alcorn - Irvine
5 grandchildren: Michael Alcorn, Chris Alcorn, Jacob Alcorn, Mikka McGee and Chelsea (David) Ritchie
7 great grandchildren: Isaac Alcorn, Dante Alcorn, Kali McGee, Jayden Ritchie, Isaiah Clapper, Hadley Ritchie and Emersyn Ritchie
He was preceded in death by 1 grandchild, Andrea McGee and 2 siblings, Marty Hannigan and Charles Alcorn.
As per his request, there will be no services. The Warren F. Toler Funeral Home is in charge of arrangements.