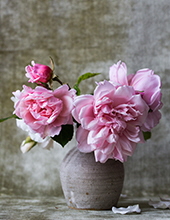 Obituary for Christine Murphy
The world lost a beloved wife, mother, and grandmother, Christine Murphy, on September 1, 2021. She was born March 9, 1935. Christine battled a chronic illness, but it never stopped her from showing her love for her husband of 68 years and her family. Christine passed peacefully at Mercy Health-Marcum & Wallace Hospital with her husband and two daughters at her side. Christine's family includes her loving husband, Scotty Murphy, her two daughters, Sharon Whitaker (Tom), Leshia Rhodes (Tammy) and her grandchildren, Courtney Harrison (Greg), Phillip Rhodes, Casaundra Mink (Robby) and her precious great-grandchildren which would always put a sparkle in her eyes: Dalton Riddle, Daxton Harrison, Emmalynn Mink, Everleigh Mink, Aubrey Rhodes, Addison Rhodes, Cooper Rhodes and Calyee Rhodes. Christine was preceded in death by her parents Clay and Nona Coffey Isaacs.

Christine was a former Carhartt employee of 26 years and retired from Mercy Health-Marcum & Wallace Hospital after 13 years of service.

Friends and family are invited to offer their condolences at the Warren F. Toler Funeral Home on Friday evening 6-9 PM. Funeral services will be held Saturday, September 4, 11 AM at the Calvary Baptist Church with Bro. Jerry Rose officiating the ceremony.

Pallbearers: Tom Whitaker, Greg Harrison, Phillip Rhodes, Dalton Riddle, Randy Lain hart, and Jerry Dixon
Honorary Pallbearers: Robby Mink, Daxton Harrison and Cooper Rhodes
Christine will be laid to rest at Sunset Memorial Gardens beside her loving parents.