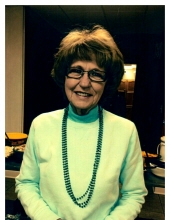 Obituary for Charlotte Sue Gross
Charlotte Sue Gross, age 71, of Bradberry Point in Richmond passed away Wednesday, January 15, 2020, at her daughter's home following a long illness. She was born March 10, 1948 in Davis County and was the daughter of the late Thomas and Martha Lott Jones. She was retired from Hospice where she worked as a registered nurse. She attended the New Beginnings Fellowship Church and had lived in Estill County most of her life. She is survived by:
1 Daughter: Mellissa Boyken - Richmond
4 Sons: Ransom Thomas (Carol) Boyken - Irvine
Keith Boyken - Irvine
Jody Boyken - Lancaster
Chris (Judy) Boyken - Waco
3 Sisters: Shirley Boyken - Island
Ruby Scott - Island
Angela Browder - Island
20 Grandchildren 14 Great Grandchildren
She was preceded in death by 1 grandchild, Sara Boyken and 3 siblings; Brenda Chinn, Linda Jones and Delbert Jones.
Funeral services will be conducted Saturday, January 18, 6 PM at the Warren F. Toler Funeral Home by Bro. Tony Boyken. Friends may call between 3 and 6 PM Saturday at the Warren F. Toler Funeral Home.
In lieu of flowers, donations are suggested to Hospice Care Plus.