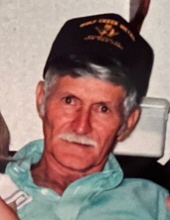 Obituary for Charles Lynn Thacker
Charles Lynn Thacker, age 79, of Richmond Road in Irvine, passed away Thursday, March 10, 2022, at the Baptist Health in Lexington following a sudden illness. He was born August 22, 1942 in Estill County and was the son of the late Lafayette and Rosa Cole Thacker. He was a retired mason and was a United States Army veteran of the Korean Conflict. He had lived in Estill County all his life. He is survived by:
His wife: Ruby Lee Jones Thacker
3 sons: Timothy Lee Jones - Estill Co.
Charles Leon Jones - Estill Co.
Kenneth Gene Jones - Estill Co.
9 grandchildren and 10 great grandchildren
He was preceded in death by his parents and 1 grandchild, Dylan Jones.
Funeral services will be conducted Monday, March 14, 1 PM at the Warren F. Toler Funeral Home Chapel with Bro. Tim Floyd officiating. Burial will be at the Cole Cemetery. Visitation will be held Monday from 11 AM to 1 PM at the Funeral Home.