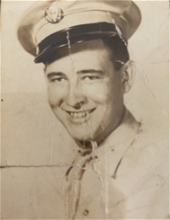 Obituary for Cecil Thomas Turpin
Cecil Thomas Turpin, age 97, of Cedar Grove Road, Irvine went to be with the Lord on Thursday, April 27, 2023, after a short illness. Mr. Turpin was born September 19, 1925, to the late James G. Turpin and Della Curtis Turpin.
Mr. Turpin was a member of the Calvary Baptist Church and a retired IBM employee. He also served in World War II under the leadership of General George S. Patton, in the Company H, 318th Infantry Regiment, 80th Division. During his 2-year tour, he was responsible for loading, and firing a 30-caliber machine gun and provided offensive tactics to stop enemy counter attacks. He received an EAME campaign medal with a bronze star, good conduct award, and the prestigious Purple Heart Medal for his heroic efforts after being wounded in France. Mr. Turpin was well liked and loved by many. He was most humble and kind and always had a way to make you laugh.
In addition to his parents, he is preceded in death by his wife, Anna Ruth "Tootsie" Eckley Turpin; 4 sisters, Lois Murphy, Lucille Webb, Claire Portwood, and Betty Witt; 3 brothers, Harold, James, and Glyndon Turpin; and 2 grandchildren, Gary Adams, II, and Erin Nicole Turpin.
He is survived by his daughter, Sondra (Gary) Adams, son, Kevin (Peggy) Turpin; three grandchildren; April (Jimmy) Stone, Miranda Snowden, and Tyler (Jordan) Turpin; and 4 great-grandchildren; Ashley and Jenna Stone, and Chandler and Cade Snowden.
Funeral services will be conducted Monday, May 1, 1 PM at the Warren F. Toler Funeral Home Chapel with Bro. Kevin Turpin officiating. Burial will be at the Winston Cemetery. Visitation will be held on Monday from 11 AM to 1 PM.
Pallbearers: Gary Adams, Jimmy Stone, Tyler Turpin, Lonnie Webb, Donnie Webb, and Kenny Webb
Honorary Pallbearers: Chandler and Cade Snowden