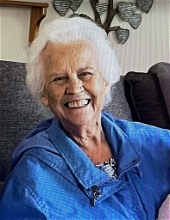 Obituary for Cathalene Puckett
Cathalene Puckett, age 85, of Campbells Branch in Ravenna, passed away Friday, May 5, 2023, at her home following a short illness. She was born June 8, 1937, in Estill County and was the daughter of the late James Daniel and Lilyrene Neal Sparks. She was an active member of the Ravenna Church of God where she attended all her life and was the oldest member of 68 years. She loved her church and her church family. She was a retired employee of Carhartt, Inc. where she worked for 30 years.
She loved her family and treasured the time she got to spend with her grandchildren and great grandchildren. She enjoyed life to the fullest and always had a smile on her face and a kind word for everyone.
She is survived by:
1 daughter: Shurla (Raymond) Cooper - Irvine
1 son: Barry (Lynda) Puckett - Irvine
4 brothers: Woody (Darlene) Sparks - Ohio
Sterling (Judy) Sparks - Ohio
Phil (Alma) Sparks - Ohio
Joe (Debbie) Sparks - Florida
Sister-in-law: Donna Sparks
2 grandchildren: Kristie (Matt) Turner and Lindsey (Josh) Rogers
4 great grandchildren: Reid Turner, Maci Turner, Cooper Rogers, and Laurey Rogers
She was preceded in death by her husband, Ruford Puckett, Jr., her brother, Ray Sparks, and her sister, Edyth Puckett.
Funeral services will be conducted Monday, May 8, 11 AM at the Warren F. Toler Funeral Home Chapel with Bro. Willie Gordon and Bro. Chuck Farrell officiating. Burial will be at the West Irvine Cemetery. Visitation will be held on Sunday from 6 to 9 PM.
Pallbearers: Matt Turner, Josh Rogers, Tony Puckett, Rory Puckett, Howard Farris, Seth Farris, and Eddie Woolery