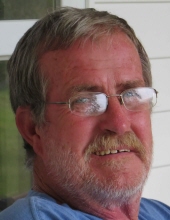 Obituary for Carlos Ray Richardson
Carlos Ray Richardson
February 18, 1951 - October 25, 2022.
Carlos Ray Richardson, age 71, of Wagersville Road in Irvine, passed away peacefully at his home on October 25 following a long illness. Ray was born on February 18, 1951, in Irvine, Kentucky and was the son of the late Willie Joe and Anna Ruth Fowler Richardson. Ray spent the past forty-two years building a beautiful life with his love, Shelia. He was a retired truck driver and a master woodworker. He shined most in his role as Poppie to his grandchildren.
Ray was preceded in death by his parents; his father-in-law, Gene Miller; and his brother-in-law, Alex Miller.
In addition to his wife, Shelia, he is survived by six children, Carlos Ray II (Antje), Kevin, Ricky (Chasity), Stephanie, Ryan (LeeAnn), and Shane (Macey); three sisters, Faye Mullins, Judy Woosley, and Sherri Cole (Clinton); 17 grandchildren - Nastascha (Josh), Karlie (soon-to-be mother to Ray's first great-granddaughter), Kelsi, Kevin Jay, Joe Dylan, Josiah, Mimi, Kade Thomas, Jenna Raye, Maddi Jo, Aidan Shane, Zylyna, Maybree, Tessa, Grayson, Emmie, and Ellie; his mother-in-law, Verneda Miller; and many nieces and nephews.
Visitation will be held Thursday, October 27, from 6:00 to 9:00 pm at the Warren F. Toler Funeral Home in Irvine, Kentucky. Funeral services will be conducted Friday, October 28, at 1:00 pm at the same location, with Shane Richardson officiating. Ray will be laid to rest at Joe Miller Cemetery. His family and friends look forward to reuniting with him in Heaven.
Pallbearers include Ray Richardson II, Ryan Richardson, Shane Richardson, Aidan Bailey, Kevin Jay Richardson, and Josiah Richardson. Ray's son, Kevin Richardson, and his longtime best friends - "Rounddaddy" Jerry Parsons, Harold Isaacs, Charlie Neal, Dale Durham, and Martha Marcum - will serve as honorary pallbearers.