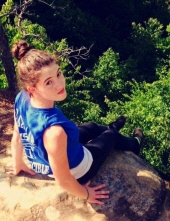 Obituary for Brooklyn Nicole Fox
Brooklyn "Brook" Nicole Fox passed away Friday, April 12, 2019. She was born November 20, 2000 and was 18 years old. Brook was a senior at Estill County High School. Where she had been a member of the Junior ROTC and Creative Writing Club. She will be remembered most for her creativity through writing and her drawings along with a great sense of humor and her love for Star Trek. She was a member of the Crooked Creek Christian Church.

Brook is survived by her dad George Thomas Fox, her twin sister Haley and brother Jaren Newton. She is preceded in death by her mother Jennifer Newton Fox. She is survived by her maternal grandparents Glen and Vickie (Davis) Newton and a host of aunts, uncles and cousins. Pallbearers will be: Michael Geiger, T.J. Harrison, Kyle Wilson, Jason Newton, Sammy Tipton and Travis Luster. Brother Tom Blackburn will conduct the funeral service Thursday, April 18 at 1 pm.

Visitation will be held on Wednesday, April 17, from 6 to 9 pm at the Warren F. Toler Funeral Home Irvine, KY. Interment will be in West Irvine Cemetery. The family asks in lieu of flowers donations be made to pay funeral expenses.