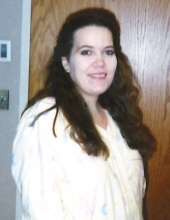 Obituary for Brandy Gayle Freeman
Brandy Gayle Freeman, age 43, of New Fox Road in Irvine, passed away Friday, August 19, 2022, at her home. She was born March 21, 1979, in Madison County and was the daughter of Ezra Gayle and Michele Garrett Freeman. She worked as a Store Clerk and attended the Bethel Christian Church. She had lived in Estill County all her life. In addition to her parents, she is survived by:

1 daughter: Abby Freeman - Estill Co.
2 sons: Noah Freeman - Estill Co.
Gabriel Freeman - Estill Co.
1 sister: Leslie (Nelson) Benton - Estill Co.
2 nephews: Blake and Ethan Benton
1 niece: Kaelyn Benton

She was preceded in death by 1 sister, Olivia Jo Freeman.

Graveside services will be conducted Tuesday, August 23, 12 PM at the Rose Freeman Cemetery. The Warren F. Funeral Home is in charge of arrangements.